Centre Back of Ghana's senior national female side, Black Queens, Faustina Ampah has exclusively disclosed to Beachfmonline that she will be launching the Faustina Ampah Foundation come 2018 to help support other upcoming female footballers.
She was speaking to Beach FM's George Duda at Efutu in the Central Region of Ghana during a friendly charity encounter between Faustina Ampah XI versus Hajia Ramatu XI (The founder of Blessed Ladies) as part of her birthday celebration.
Faustina Ampah's team dominated the entire proceedings and rounded up both halves with a 2:1 win. The result truly wasn't a fair reflection of the game that took place at the Efutu School Park but the event in a whole was well patronized by residents of Efutu.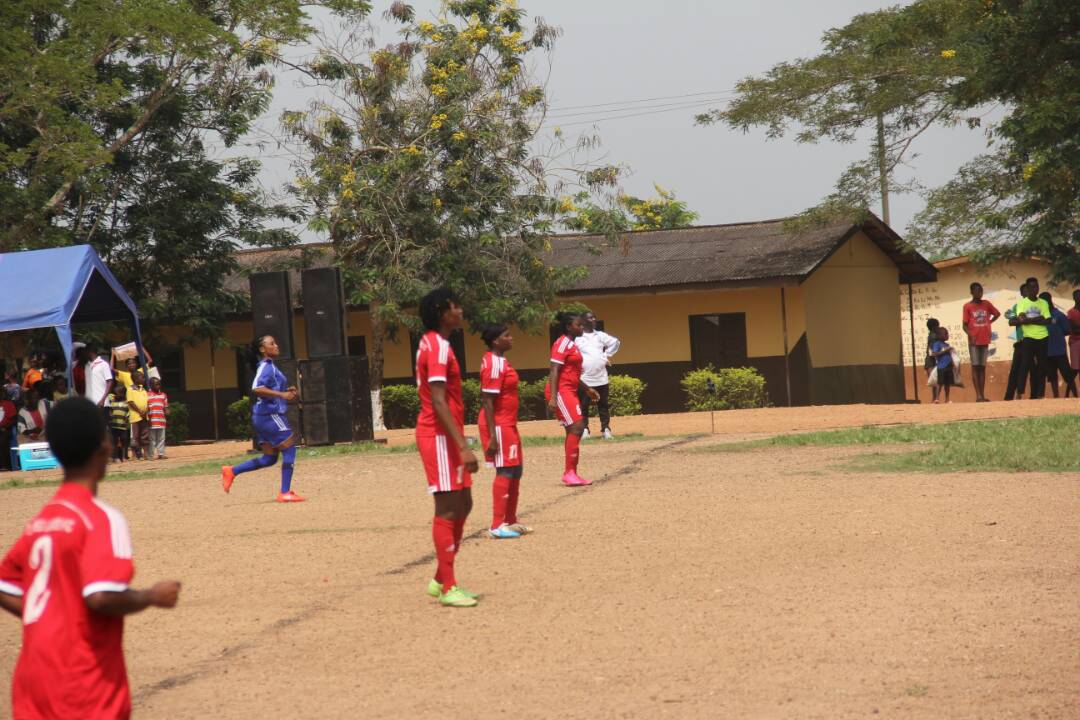 The likes of Ellen Coleman of the Black Queens, Milot Abena Pokuaa of Ghana's Under-17 female team, Habiba Halidu of Blessed Ladies, starring alongside the ZFK Minsk centre back[Faustina Ampah]. The other side saw Memuna Darku formerly of Black Queens head a line-up dominated by players of Lady's Strikers and Sea Lions.
The event met the warm reception of the town people and Queen Mother of Efutu, Obaahemaa Nana Amba Ayaaba in her traditional outfit walked boldly to grace the occasion. In her soothing voice Nana Amba Ayaaba said "I'm grateful for this opportunity and how welcoming this event is to ensure that ladies are not only found at the kitchen, but can also compete at the top level with men at every field".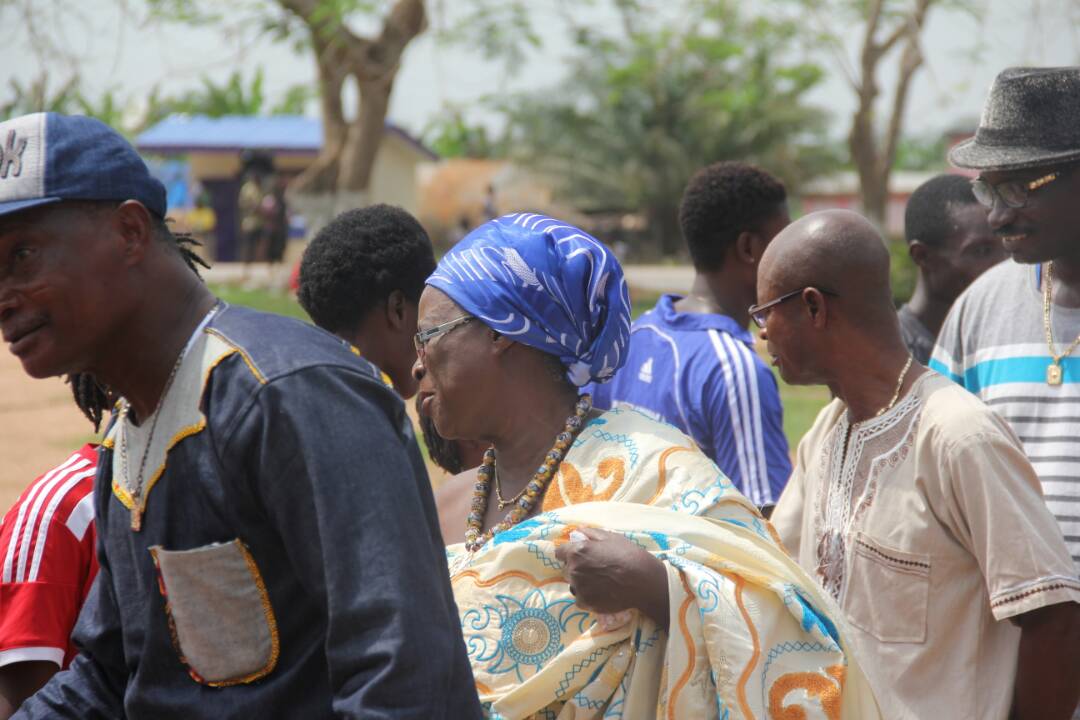 Parents must allow their female children to choose exactly what they want to do, we don't have to pick for them – not everyone was born to be a nurse, some will play football and we should allow them" – she added.
The Queen mother expressed her ambition to have a Female Soccer team at Efutu that will compete in the National Women's League – "I once had a plan to form a female soccer team here in Efutu to compete in the National Women's League. It's not late still, we will work on achieving that, this event just serve as a reminder and a wakeup call" – Nana Amba Ayaaba, Queen Mother of Efutu.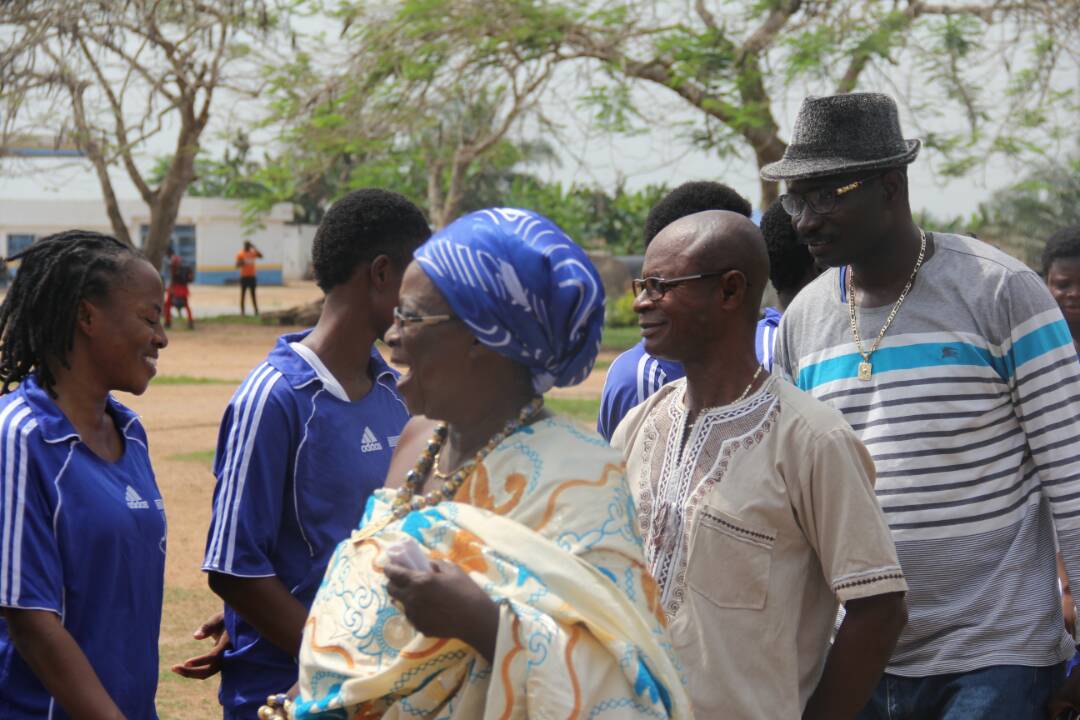 She[Nana Amba Ayaaba] further thanked the town people and the players who came all the way from their various towns to support the initiative.
The day ended with hundreds of people thronging the home of the 2017-18 UEFA Women's Champions League campaigner to take a bite of the refreshment package.
The fast growing former Blessed Ladies centre back thanked the entire participants for making the day a memorable one on her Twitter account.
Thanks to all the players that showed up today to help a sister. I'm grateful for the support today.

😍😍😍😍 pic.twitter.com/XFu8rRohOt

— Faustina Ampah (@f_Ampah15) December 26, 2017
Thank you Queen mother of Efutu(Town in Cape Coast, Central Region, Ghana.), Obaahemaa Nana Ama Ayaaba. Your support today was enough.

Panyin wo fie a oyiee. pic.twitter.com/NBojvZwtUc

— Faustina Ampah (@f_Ampah15) December 26, 2017